We say goodbye to 2016 very happily, because 25 friends from different countries joined us to celebrate together the coming of 2017 within the NYE.
What is NYE?
Accross Europe, different AEGEE antennas organise multi-day events with approximately 25-30 participants, where locals show how they are preparing for the new year. This year, 10 antennas made NYE, amongst them AEGEE-Budapest too.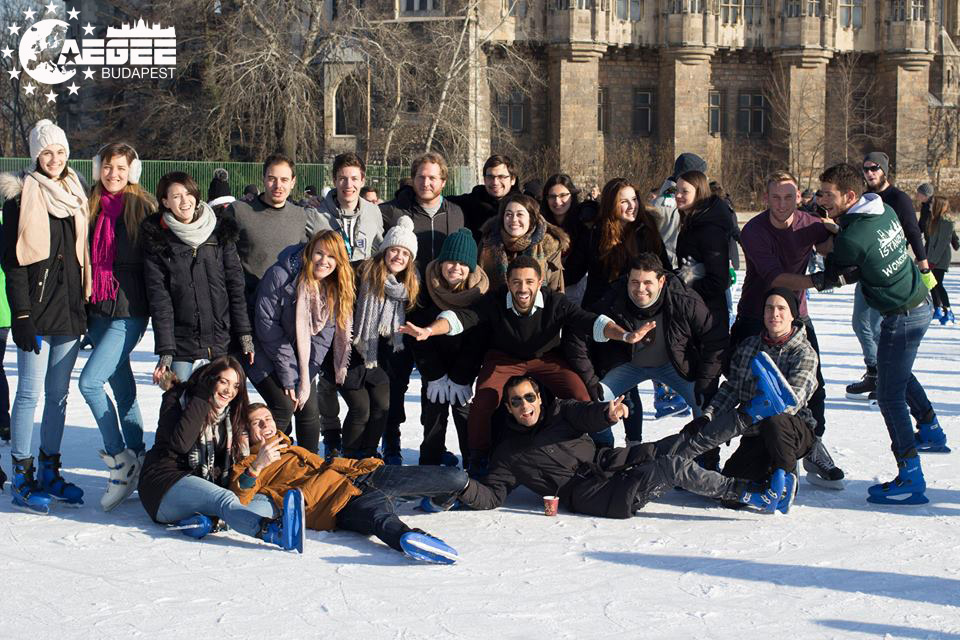 For the 6-day long event, youngsters arrived from more than 15 countries, in turn the local team tried to introduce the city the best as they can.  The main organisers, Luca Donkó, Viktória Patyi, Ágnes Keresztesi, Balázs Bencze, Mihály Fogarasai and László Marczinka composed a thick, exciting schedule in order to make  unforgottable days.
There were plenty of programs, such as ice skating on the Városliget's ice rink, chairlifts to Elizabeth viewpoint, city tour, photoshooting on Gellért-mountain, Christmas tour, bath-time and folk-dancing workshop. In the evenings, participants could experience Budapest's nightlife with concerts and pub tours. Naturally, there couldn't exists an AEGEE-event without the traditonal European Night, where every nation have the opportunity to present their gastronomy and behaviours. Obviously the highlight of the NYE was the New Year's Eve.
Thank you for all the participants, helpers and for the main organizer for these fantastic days! 😉