You don't have any plans yet for New Year's Eve? Your friends are all busy and scheduled already? You want to step out of your comfort zone and try new things? Then the AEGEE New Year Events ARE FOR YOU!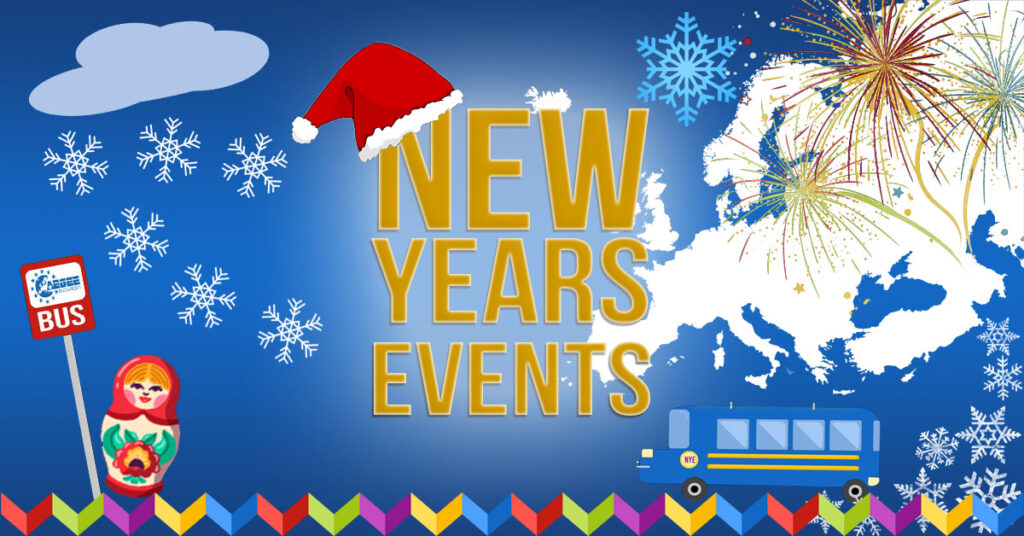 AEGEE-Europe will organise NEW YEARS EVENTS this Winter all over Europe, with the aim of bringing young people from different countries and different cultures closer and getting to know each other. If you'd like to spend the New Year in Bucuresti, Novi Sad, Maribor, Helsinki and Tartu, Paris, Lviv, Utrecht or Moskva and Sankt-Petersburg, check out all the events these cities offer for you!
📌By paying the fee, you will get:
✅ Accommodation during the whole duration of the event  🏡
✅ At least 2 meals per day (one warm) 🍲
✅ Local transportation during the event 🚇
✅ Programmes and activities
✅ New Year's Eve party 🎆🎆
✅ At least 20 new friends all over Europe
You can see the events in cronological order here:
🇷🇸 NOVI SAD:
Winter Madness: Lost in Time!
AEGEE-Novi Sad
Date: 27.12.2019. – 02.01.2020
Price: 135 €
🇪🇪 TARTU & 🇫🇮HELSINKI:
An EstoNYEan FINish to 2019
AEGEE-Tartu & AEGEE-Helsinki
Date: 27.12.2019. – 03.01.2020.
Price: 220 € + 15 € Optional
🇷🇴 BUCURESTI:
No REST in BuchaREST
AEGEE-București
Date: 28.12.2019. – 02.01.2020.
Price: 160 €
🇫🇷 PARIS:
Midnight Kissing in Paris Vol.3
AEGEE-Paris
Date: 28.12.2019. – 02.01.2020.
Price: 250 €
🇷🇺 MOSKVA & SANKT-PETERBURG:
Russian Salad
AEGEE-Moskva & AEGEE-Sankt-Peterburg
Date: 28.12.2019. – 05.01.2020.
Price: 235 € + 15 € Optional
🇺🇦 LVIV:
NYE: Sn(h)ow Yourself
AEGEE-Lviv
Date: 29.12.2019. – 02.01.2020.
Price: 110 € + 15 € Optional
‼️ Please keep in mind the application deadlines! ‼️
✅ You can apply to all events through MY AEGEE ✅
📌 For more information, please click on the links or like the Facebook page of the organising locals, where you can get more information.
❗ If you are interested to join, but you are not yet a member of AEGEE-Budapest, you can join us by registering and paying the membership fee. Requirements for application: paid membership and writing a motivation letter.❗
You can find more information how to join us HERE.
🔰More info and contacts:
e-mail: board@aegee-budapest.hu
Facebook page: AEGEE-Budapest
Instagram: aegee_budapest