I just feel that I have woken up from my dream and all the memories are flashing in my head…
A lot of memory….. The epic, beautiful buildings, the endless twilight, the colorful programs, the marvelous nightlife, wonderful city lights and of course the most important: the unforgettable people I met there.
It is same like films…..if you want to experience the full movie; you have to see it with your own eyes from the cinema screen not just watching the movie trailer at home. Therefore, now I can not give same experience but I will try to give an insight to this 12 day long unforgettable holiday in Sankt-Petersburg Summer University.
Day 1: When our plane landed in Sankt-Petersburg I had no idea what to expect. Our Organizers came out for us and when we were going by car to our hostel I was already impressed by the wide roads of the city. We arrived to our accommodation which was really nice, and especially I was glad it was in the city centre where we could reach everything easily. We got to know each other in the first day and we started to discover the nightlife of Sankt Petersburg. At night I was very fascinated how bright the sky was at 1 am.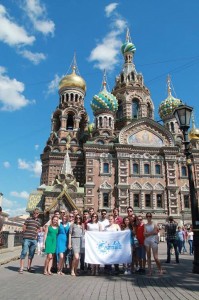 Day 2: The following day we discovered the city with our well prepared tour guide who gave us many interesting facts and information about Sankt-Petersburg. After the long walk we made several games; we formed groups and we had to complete tasks to gain points. The topic of our SU was "Spy School"; therefore each group secretly contained one spy who had to prevent the group to go forward. This thing really spiced up the team. In the same day we had Russian workshop as well where we could get familiar to Cyril alphabet and the Russian "survival dictionary kit". We closed our second day with a funny thematic spy dress up party.
Day 3: In the third day we went by bus to Peterhof which is a series of palaces and gardens, laid out on orders of Peter the Great. We continued our group games as well. For extra points for example we could manage to take photos with a bearded man and a kissing couple, and we learned Russian songs also. 🙂 It was such a fun day. 🙂 At the end of our long walk we had picnic in the shadow of the trees. To increase the funny moments, in the night we had pub crawling, where groups not only visited many pubs and bars and tried out traditional Russian drinks, but we had to complete many tasks such as asking a foreigners telephone number, making cancan with a stranger, taking funny group pictures. It was really enjoyable, and the group spirit was awesome. 🙂
Day 4: The fourth day we visited a beautiful island where there was Elagin Palace. Here we experienced how the feeling in the time of Peter the Great was. We tried out those beautiful, 18th century traditional hoop dresses, hats, tail coats. We learned traditional dances as well. For one hour we felt like we were also in the royal family. 🙂 At night, we visited Maza Park, where we had opportunity to discover different kinds of games during the whole night. It was an incredible big building full with different kinds of games, such as billiard, bowling, darts, and many video games. We could also try out roller-skating in a big field. I really enjoyed it. 🙂 There was FIFA Word Cup semifinal, and we could see it in a cinema size screen as we were skating. We tried out laser force also, where we were divided into two groups fighting with each other, like real spies. 🙂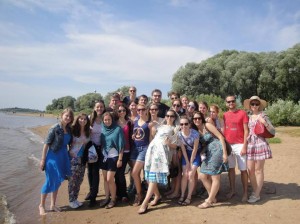 Day 5: The next day we had Russian language, youth mobility and traditional wooden doll: Matreshka workshops. In addition we went to a dance school where we tried out our sense of rhythm and we learned many traditional Russian dances. I loved it. 🙂 It was really hard, but a lot fun. In the evening, in the "European Night", each nation not only prepared their drinks, but also gave a small presentation about their country and showed their foods as well. It was very good that we had food also, to absorb the drinks what we had drunk. 😉 It was an amazing night full with joy. We made a lot of dances together and we were singing the songs which everyone knew. This program gave us many unforgettable hours.
Day 6: The morning after "European Night" we made metro rally where we discovered the metro system of Sankt-Petersburg. It features exquisite decorations and artwork making it one of the most attractive and elegant metros in the world. In the afternoon we visited Petropavlovka district where we saw many beautiful places and enjoyed the scenery near Neva River.
Day 7: Our sport challenges continued in the next day. We took part in real boot camp training and we played games too. After training we learned to shoot, run and lying with Kalashnikov.
Day 8: Beside Sankt-Petersburg we had opportunity to see another city in the following day too: Novgorod. After 3 hour long bus journey we ended up in a beautiful monastery, which is among the oldest monasteries of Russia. It was such a beautiful city and we visited the riverside where we swam a little bit and had sunbath in the sand. In the afternoon we watched the FIFA Word Cup final. Our German participant was the happiest of us in this evening. 🙂
Day 9: The next day we took part in a very interesting competition in Pushkin. We had guided tour and as real spies we had to find some signs. It was not easy but finally we could manage it. We saw many beautiful places during this trip. After this long program, some of the participants went to ballet watching Swam Lake. The play was such a pleasure and the theatre gave us a wonderful environment also. After the performance we had night boat trip. To tell the truth that was one of the best!! 🙂 We were the only people in the boat, therefore we could sing, dance, and of course enjoy the lights of the city. As the music was surrounding us we could enjoy the view of the opening bridges.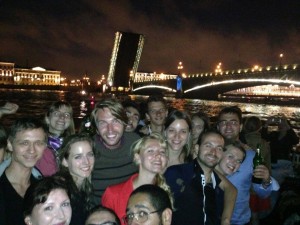 Day 10: This day Hermitage and Isiakievski were waiting for us. It was incredible huge, full with beautiful pictures. One week is not enough to watch all the things, but I was happy to visit this museum. After dinner we went to Karaoke party, where we tried out our voices. I think many of us were braver than actually our singing knowledge, but anyway it was fun. 🙂 The groups competed with each other in different type of songs.
Day 11: In the last full day we had intercultural dialogue session and of course we had our farewell party with a cocktail night.
Day 12: The next day we had to leave Sankt-Petersburg but I know that these 12 days will stay in my memory and my heart forever. A huge thank to all of our Organizers for being friendly, energetic, cheerful.
My summer will be unforgettable because I not just watch the trailer as you are reading these words, but I saw the movie and I participated in this wonderful adventure. 🙂
Diana Ludanyi – AEGEE-BUDAPEST